It's that time of year again, and I wanted to expand on a tweet from last year.
This is your iPhone and Mac without 3rd party developers.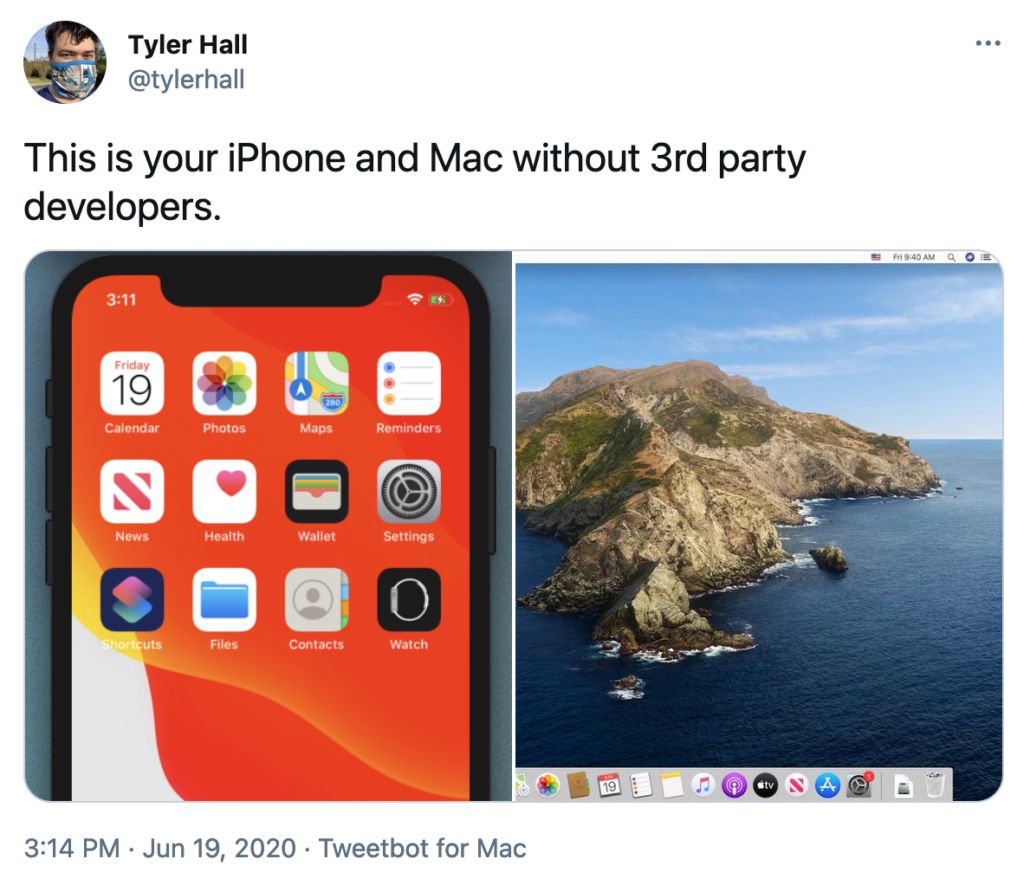 Impressively carved skeletons with no meat.
Since Apple will stand on a virtual stage tomorrow and tell us how much they love, value, and appreciate third-party developers, here is an alphabetical list of iOS apps that I depend on - from solo developers, small companies, and giant world-eating ones, too.
(And these are not affiliate links because Apple sure put a stop to that.)
1Password, DEVONthink, Day One, Drafts, Dropbox, Due, Fantastical, Fastmail, Firefox, Google Maps, Home+, Instapaper, Noom, OmniFocus, Overcast, PCalc, Pins, Plexamp, Pushover, Reeder, Sonos, Spotify, SwiftScan, The Athletic, Trello, Tweetbot, WolframAlpha, YouTube Music
I want to be crystal clear about the value these apps (and many others) provide. Without them, I would not own an iPhone. Or an iPad. Or an Apple Watch. I would not have purchased an iPad Magic Keyboard. Or any number of first-party Apple Watch bands.
I would not own three Apple TVs. (Well, only one is still in use. The other two are in a closet after being swapped out for Android TV last Summer. But that's another blog post.)
I would not pay for iCloud storage each month. My seven-year-old son would not use his chore money to pay for Apple Arcade.
And because modern life relies so much on connected ecosystems, if I didn't use any of the above hardware, dare I say, I would not still be using a Mac, either.
As the head of IT for my family and extended family (is there a better way to phrase that?), I would question if any of them would own iPhones, iPads, Apple Watches, Mac laptops, and pay for iCloud, Apple Music, and even Apple Fitness+.
---
The iPod halo effect brought millions of people into Apple's walled garden. But as Tim Cook testified in court last week, no customers are locked in by Apple.
Lawyer: What about references to locking customers into devices?
Cook: It means making all the product work so well together people don't want to leave.
Lawyer: Is there anything Apple could do to lock people into iOS?
Cook: Not that I'm aware of.
And I agree with Cook. I could switch to Windows and Android. I wouldn't like it, but I could make the switch.
Except for all those third-party apps. I couldn't give those up without significant effort - if it would even be possible to find replacements for each.
Third-party apps are what keep me locked into Apple's lucrative don't-call-it-a-walled-garden.
In any healthy software ecosystem, third-party developers and the platform vendor are a symbiotic relationship. To pretend otherwise is fanciful gaslighting.
---
Cook: I view it differently than you do, Your Honor. I view that we are creating the entire amount of commerce on the store
I view it differently than you do, Mr. Cook. I view that developers are creating the entire incentive for consumers to purchase your hardware.