Man, I miss Rdio. I mean, I really miss it. I loved that service.
When I was a teenager, I'd spend hours on the weekend and get lost in new and used music stores (CD's) just digging through stacks of beautiful album artwork and unfamiliar band names. I'd talk with other customers and ask the clerk to let me sample a few tracks when something caught my eye. The joy was in the discovery as much as the actual purchase and listening that came later.
Rdio was the first streaming music service I used. It was like walking into an infinitely large music store. And it was all free! (Well, $10/month.) Their UI was wonderful. Websites today are walled gardens designed to keep you on the property for as long as possible. But Rdio, like the web of the late 90's and early 2000's, was overflowing with links leading through a maze designed to get lost in. Each album page - in addition to the artwork and song listing - had detailed info about the band, their other music, related artists, genres, etc. (The only similar mainstream experience I can think of today is when you fall down a Wikipedia rabbit hole.) And the majority of the pages had an in-depth critic's take on the music in addition to listener submitted reviews that were generally well written and free of the awfulness we see in YouTube's and Facebook's comments section today.
What I'm trying to say is Rdio came very close to recreating the record store experience in digital form. Apple tried and failed with Ping and has since made additional social attempts inside Apple Music. I can't really speak about what Spotify is like now. I was a subscriber for a few months after Rdio died, but it never really stuck for me - and Apple Music's tight integration with Mac and iOS have kept me tied to their service instead.
So using Apple Music the last few years has been fine I guess. I can play what's in my own collection (usually), and search their streaming library, but I find it extremely difficult to organically discover new music. It's sort-of possible on the desktop with iTunes, but the iOS app (and I took a look just now to double-check) only shows "other albums by this artist." The "For You" tab makes an attempt by showing other genres similar to what you already listen to, but I find their algorithmic recommendations lacking. And, again, if you do tap on one of the suggested albums, that's about as far as you can go. You can't further explore beyond that artist. And don't even get me started on the "Browse" section or whatever the hell Beats 1 is doing. That's a dumpster fire of shitty editorialized content that I can only assume is mass promoted by the record labels for the masses. (Yes, I might just be snobby and elitist about my music, but I really do have a lot of pop music in my collection that I enjoy. I just find most of Apple's selections...shallow.)
Anyway, like I said, it's fine. Not anything special, but fine.
But over the last few months I've made a conscious effort to start listening to more music again. I used to always have something playing in my bedroom, dorm, various apartments, and later houses. But I think once my kids were born, their needs and noise took over and music fell to the wayside. But now I'm using the wonderful Anesidora app to keep Pandora shuffling through songs in my office where I sit all day. I need to stay focused on my work, and having to think about and choose something to play takes me out of the zone. I like that I can just tell Pandora to play something it thinks I'll enjoy and it will take care of the rest. It's mindless and exactly what I want.
But Pandora typically only plays music I've already listened to and given a thumbs-up. It rarely surfaces new music. That's what I still have to try and use Apple Music for. And I typically try and do that when I'm in the car.
Using your phone for anything while driving is stupid. So if I want to queue up some music, I have to do it when I'm still in the driveway or if I think I have time and it's safe while stopped at a traffic light. But I need to be fast about it. And that's where Marvis, Launch Center Pro, and Apple's Shortcuts app come into play.
I discovered Marvis last month from Ryan Christoffel at MacStories. It's a highly-customizable client for Apple Music. All of your songs, playlists, and the entire Apple Music catalog in a gorgeous, functional UI that you can design around your own needs. Here's what my setup looks like:

I've got the Home screen organized so that I can tap and play my most listened to playlists and albums without scrolling or having to dig through Music.app's tabs and navigation stacks.
Specifically, at the top I can start any music I've recently added to my library. I'll often go on a music adding binge and add a ton of stuff at once then finally listen to it days or a week or so later. This section collects all those albums in one spot so I don't forget to try something new that looked interesting to me.
Beneath that are three of Apple Music's main auto-generate playlists. Again, I have one-tap access to my Favorites when I want to hear something familiar and New Music that Apple thinks I might like (which is often hit or miss).
Further down the screen is "New For You", which is a stream of new releases from artists already in your library. I've wanted this feature in iTunes for years, and I'm thrilled Apple Music delivered.
Of note: I've used the display settings in Marvis to pack as much music into as small a space as possible. This puts as many tap targets within "thumb reach" as possible and minimizes any scrolling I need to do. Very important when that red light could turn green at any moment.
Next up, if I want even faster access to my most common playlists, I've created three shortcuts in Shortcuts.app to play Apple's "New Music for You", "Your Favorites", and their top Alternative songs and added them to Launch Center Pro's excellent Today widget. From my phone's home screen, I can swipe left and tap to start playing.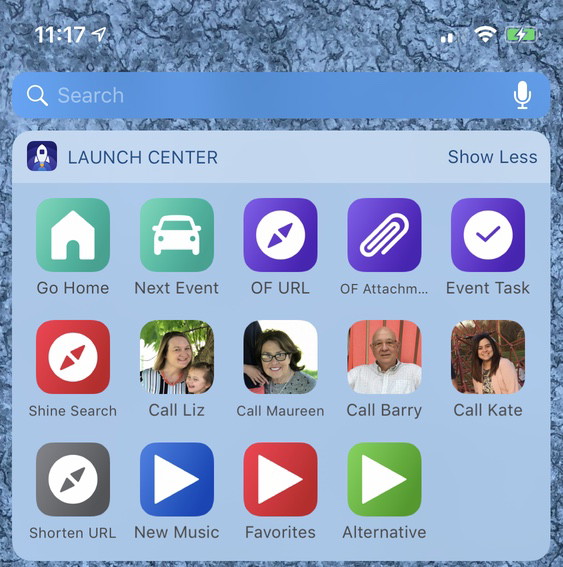 And going a bit further with Shortcuts, I've added two as icons on my home screen:
"Play Album", which starts playing the full album that the current song belongs to. This is super useful when I'm listening to a suggested music playlist and it plays a new artist I'd like to hear more of.
And "Bookmark Song". This adds the current song to a playlist I made called "Bookmarks". I treat it like an Instapaper for music that I can come back to later when I have time to explore.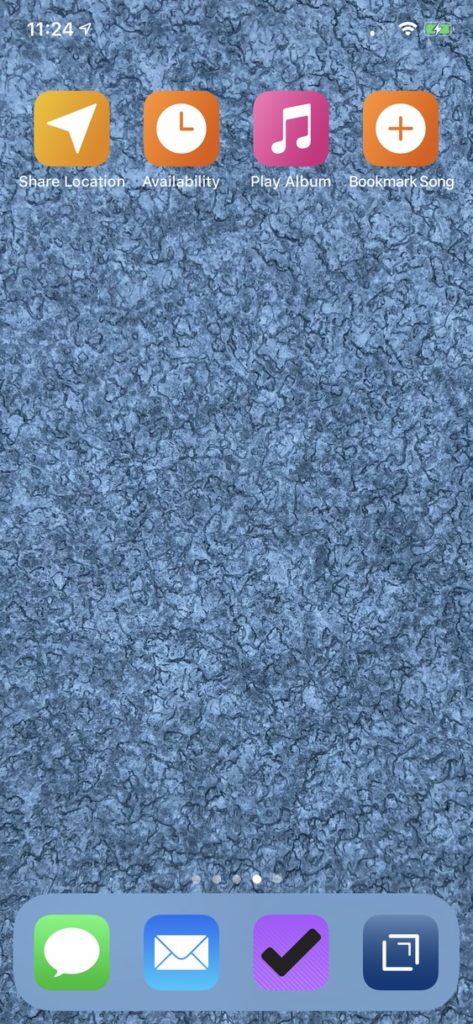 So, that's my music setup at the moment. I achingly miss Rdio but am trying to make the best of Apple Music by making it as easy as possible to listen to the music I love and explore the new songs it thinks I'll enjoy.